Urban Freeways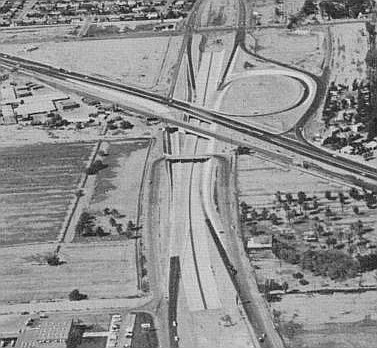 The original interchange between the Black Canyon Highway (AZ 69) and Grand Avenue (US 60/70/89), shortly after it was completed around 1955. (Photo: Maricopa County)
Like a lot of urban areas, freeways have been highly controversial in Arizona. Throughout the 1970s, the Arizona Republic newspaper waged a fierce campaign against them. Only in the mid-1980s did freeway construction get back on track. I hope to cover some of the history of this here.
Phoenix
The earliest reference I've been able to find is a planning document published by Phoenix and the Arizona Highway Department in 1950. This proposed a full freeway along AZ 69, and moved US 60/70/80/89 to a new six-lane parkway along Roosevelt St. It would only have crossings at half-mile intervals, except between 3rd St. and 3rd Ave. A large viaduct would be constructed over the Southern Pacific Rail yard so that it could connect to the Black Canyon Highway.
Another six-lane parkway would be constructed along 20th St. Jefferson St. and Madison would be converted to a pair of one-way streets.
Jefferson and Washington ended up being the one-way streets. The parkways became the Papago Freeway and Squaw Peak Parkway.
Starting in the early 50s, Phoenix began upgrading the Black Canyon Highway, AZ 69, into a full, controlled access freeway. It appears that the frontage roads were constructed first from McDowell to Dunlap, then the traffic lanes were constructed between them.
With the start of the national Interstate Highway System, Arizona started planning for its part in it.
In 1957, Phoenix conducted a study that came up with a few plans.
In 1960, the Arizona Highway Department (now ADOT), Maricopa County, and the City of Phoenix proposed a system of freeways to serve the Phoenix area. Remarkably, almost all of them have or will be built, but over 20 years late. In 1985, the voters of Maricopa County passed Proposition 300, a ½¢ sales tax to help fund the plan.

1950 Plan (1297K)

1957 Plan 1 (89K)

1957 Plan 2 (113K)

1960 Plan (1297K)

1985 Plan (revised 1998) (86K)
---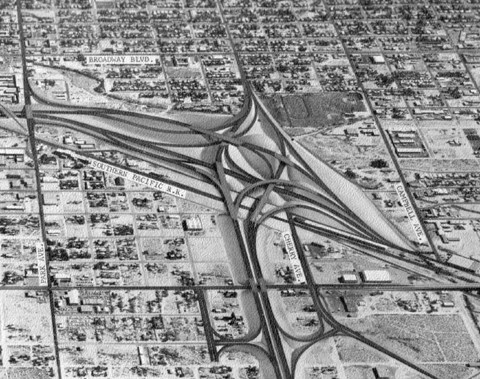 Tucson is still going through the same freeway aversion that Phoenix had. Monsters like this 1968 proposal for I-710 didn't help. (Photo illustration: ADOT)
The early freeway planning mirrored Phoenix's. In 1951 they came up with a plan for an improved street grid, which included what would become I-10. In 1961, Tucson had its own big plan for freeways released. By 1971, Tucson scaled down its plans, but they still included I-710 along what is now Kino Parkway along with a few others. None were built.
But also like Phoenix, Tucson has gotten to the point where it has to improve its road system to handle its growth. To date, all that's been constructed is the Aviation Parkway, and there is no schedule for the remaining roads. They might not be full freeways at all, but limited-access parkways instead (intersections, but only at major crossroads).
The proposed numbering system makes sense, with the numbers being 3 digit spurs and loops off existing or previous existing numbers, unlike Phoenix's random assortment.

1951 Plan (800K)

1960 Plan (1175K)

1971 Plan (302K)

1997 Plan (39K)
Alvernon (AZ 489)

Aviation Parkway (AZ 210)

Golf Links (AZ 810)

Houghton (AZ 983)

Kino (AZ 589)

Sahuraita (AZ 982)

Tangerine (AZ 989)

Valencia (AZ 910)
Last updated 5/3/2003