Current route: JCT I-10 in Glendale, around north and east of Phoenix, to JCT AZ 202 in Chandler
Since: 1988
---
This is one of the loop highways around the Phoenix area.
The posted directions change from North to East to South as the highway circles the city. It also undergoes several name changes.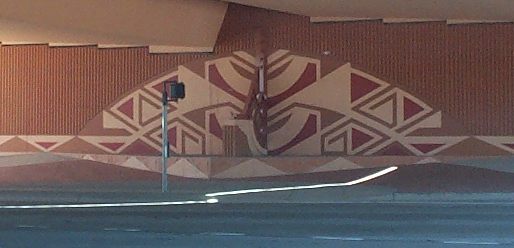 The Pima Freeway section is elaborately decorated. The designs are based on Pima Indian artwork.
The first section to open was from Northern Ave to Peoria Ave in 1988. The only section not completed is the ramp to AZ 202 East at Pecos Rd.
Click an attraction name to visit it
AZ 101 EXIT LIST
EXIT
EASTBOUND EXITS


Read down

WESTBOUND EXITS


Read up

Auga Fria Freeway
SPEED LIMIT 65 THROUGHOUT
1A
EAST
Phoenix
1B
WEST
Los Angeles
2
McDowell Rd
3
Thomas Rd
Thomas Rd
4
Indian School Rd
Indian School Rd
5
Camelback Rd
Camelback Rd
7
Glendale Ave
Luke AFB
Glendale Airport
Glendale Ave
Luke AFB
Glendale Airport
8
Northern Ave
Northern Ave
Wildlife World Zoo
Wildlife World Zoo
9
Olive Ave
Glendale Comm College
Olive Ave
Glendale Comm College
White Tank Mtn Park
White Tank Mtn Park
10
Peoria Ave
Youngtown
Peoria Ave
Youngtown
11

Grand Ave
Surprise
Kingman
Las Vegas
TO
91st Ave
To Grand Ave
Kingman
Las Vegas
12
Thunderbird Rd
ASU West Campus
Amer Graduate School
of Intl Management
Thunderbird Rd
ASU West Campus
Amer Graduate School
of Intl Management
14
Bell Rd
Bell Rd
Peoria Sports
Complex
Peoria Sports
Complex
15
Union Hills Dr
Union Hills Dr
EXIT
NORTHBOUND EXITS
Read down
SOUTHBOUND EXITS
Read up
EXIT
EASTBOUND EXITS
Read down
WESTBOUND EXITS
Read up
17
75th Ave
75th Ave
18
67th Ave
67th Ave
19
59th Ave
59th Ave
20
51st Ave
51st Ave
22
35th Ave
23A
27th Ave
27th Ave
23B
NORTH
Flagstaff
NORTH
Flagstaff
23C
SOUTH
Phoenix
SOUTH
Phoenix
Agua Fria Freeway
Pima Freeway
24
19th Ave
25
7th Ave
7th Ave
26
7th St
7th St
28
Cave Creek Rd
Cave Creek Rd
National Memorial Cemetery
National Memorial Cemetery
30
SOUTH

SOUTH

31
Tatum Blvd
Tatum Blvd
32
56th St
56th St
34
Scottsdale Rd
Scottsdale Rd
35
Hayden Rd
Hayden Rd
EXIT
EASTBOUND EXITS
Read down
WESTBOUND EXITS
Read up
EXIT
SOUTHBOUND EXITS
Read down
NORTHBOUND EXITS
Read up
36
Pima Rd
Princess Dr
Pima Rd
Princess Dr
38
Frank Lloyd Wright Blvd
Bell Rd
Frank Lloyd Wright Blvd
Bell Rd
39
Raintree Dr
Raintree Dr
40
Cactus Rd
Cactus Rd
41
Shea Blvd
Shea Blvd
42
90th St
Pima Rd
Pima Rd
90th St
43
Via De Ventura
Via De Ventura
44
Indian Bend Rd
Indian Bend Rd
45
McDonald Dr
McDonald Dr
46
Chaparral Rd
Scottsdale Comm College
Chaparral Rd
Scottsdale Comm College
47
Indian School Rd
Downtown Scottsdale
Civic Center
Indian School Rd
Downtown Scottsdale
Civic Center
48
Thomas Rd
Thomas Rd
49
McDowell Rd
McDowell Rd
50
McKellips Rd
McKellips Rd
Pima Freeway
Price Freeway
51
EAST WEST
WEST EAST

52
Rio Salado Pkwy / 8th St
University Dr
University Dr
Rio Salado Pkwy / 8th St
53
Broadway Rd
Broadway Rd
54
Southern Ave
Baseline Rd
55A
EAST
Globe
EAST
Globe
55B
WEST
Phoenix
WEST
Phoenix
55C
Baseline Rd
Southern Ave
56
Guadalupe Rd
Guadalupe Rd
57
Elliot Rd
Elliot Rd
58
Warner Rd
Warner Rd
59
Ray Rd
Ray Rd
60
Chandler Blvd
61A
Price Rd
61B
WEST
61C
EAST
Price Freeway
EXIT
SOUTHBOUND EXITS
Read down
NORTHBOUND EXITS
Read up
Return to Arizona State Routes
Return to Arizona Roads
Last updated 9/4/2005