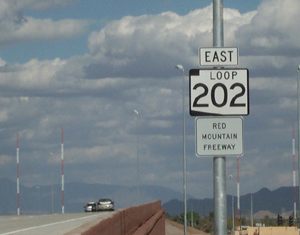 Current route 1: JCT I-10/AZ 51 in Phoenix to Power Rd. in Mesa
Current route 2: University Dr. in Mesa to JCT I-10

Proposed route: JCT I-10/AZ 51 around Tempe, Mesa, and south of Phoenix to JCT I-10 near 51st Ave.
---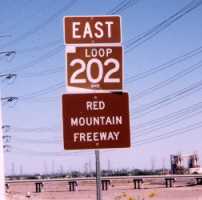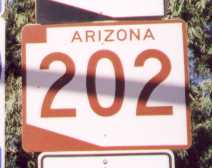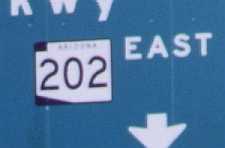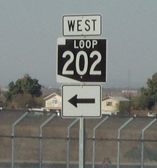 ADOT originally signed AZ 202 with white-on-brown signs, but as you can see it was a pain keeping the sign shop and ADOT's contractors on the same page.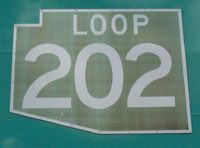 Sun fade was a signifigant problem as well.
ADOT finally gave up, and in 2002 decided to make all the Loop route signs (AZ 101, AZ 202, and AZ 303) the standard black-on-white, albeit with "LOOP" instead of "ARIZONA" at the top. This was first instituted on the Country Club (AZ 87) to Gilbert Rd. leg of AZ 202. It's fitting that there was still one last hitch. The signs originally posted were the white-on-black signs. They were replaced a few weeks later with the black-on-white signs, although there are a couple left on the cross streets.
I don't believe the old color signs will be replaced until their lifespan is up, so they should be around on the existing freeways for a long while.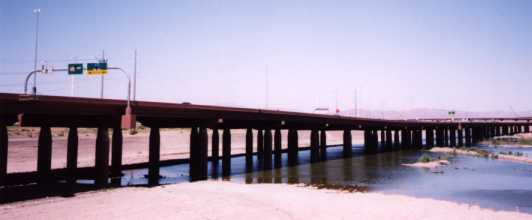 The Red Mountain Freeway's bridge over the Salt River is about a mile long. The river isn't that wide; the road goes across the river lengthwise. This was done to avoid the old Tri-City Landfill on the north bank, which is considered a hazardous site. Part of the AZ 101 Price Freeway interchange is over the river as well.
There is an unmarked SPUR AZ 202 from AZ 202 and Priest Dr into the east end of Sky Harbor Airport.
Click an attraction name to visit it
AZ 202 EXIT LIST
Red Mountain Freeway
EXIT
EASTBOUND EXITS


Read down

WESTBOUND EXITS


Read up

0
SPEED LIMIT 55
SPEED LIMIT 55
WEST
Los Angeles
1A

EAST
Tucson
NORTH

◊
WEST
HOV EXIT
1B
24th St
24th St
1C
32nd St
32nd St
2
40th St
44th St
44th St
Chinese Cultural Center
Shrine Auditorium
Phoenix Greyhound Park
Chinese Cultural Center
3

McDowell Rd
SOUTH
Washington St

3
SPEED LIMIT 65
SPEED LIMIT 55
4
Van Buren St
52nd St
Van Buren St
52nd St
Phoenix Zoo
Botanical Garden
Phoenix Zoo
Botanical Garden
5
TO SOUTH
Sky Harbor Airport
6
Priest Dr
Center Pkwy
Downtown Tempe
Center Pkwy
Priest Dr
Downtown Tempe
7
Scottsdale Rd
Rural Rd
Scottsdale
Ariz State Univ
Scottsdale Rd
Rural Rd
Scottsdale
Ariz State Univ
8
McClintock Dr
9
NORTHSOUTH
ScottsdaleChandler
SOUTHNORTH
ChandlerScottsdale
10
Dobson Rd
Dobson Rd
11
Alma School Rd
Alma School Rd
12
McKellips Rd
13

Country Club Dr
Payson
Fountain Hills

Country Club Dr
Payson
Fountain Hills
16
Gilbert Rd
To McDowell Rd
17
McDowell Rd
To Gilbert Rd
19
Val Vista Dr
Val Vista Dr
20
Greenfield Rd
Mesa Airport
Falcon Field
Greenfield Rd
Mesa Airport
Falcon Field
21
Higley Rd
Higley Rd
22
Recker Rd
Recker Rd
23
Power Rd
To McDowell Rd
ALL TRAFFIC MUST EXIT
EXIT
EASTBOUND EXITS


Read down

WESTBOUND EXITS


Read up

EXIT
SOUTHBOUND EXITS


Read down

NORTHBOUND EXITS


Read up

24
McDowell Rd
To Power Rd
25
McKellips Rd
McKellips Rd
26
Brown Rd
Brown Rd
27
University Dr
University Dr
ALL TRAFFIC MUST EXIT
28
Broadway Rd
30A
EAST
Globe
EAST
Globe
Red Mountain Freeway
Santan Freeway
30B
WEST
Phoenix
WEST
Phoenix
31
Baseline Rd
32
Guadalupe Rd
Guadalupe Rd
33
Elliot Rd
Elliot Rd
EXIT
SOUTHBOUND EXITS


Read down

NORTHBOUND EXITS


Read up

EXIT
WESTBOUND EXITS


Read down

EASTBOUND EXITS


Read up

34
FUTURE
Hawes Rd
FUTURE
Hawes Rd
36
Power Rd
ASU Polytechnic
Williams Gateway Airport
Power Rd
ASU Polytechnic
Williams Gateway Airport
38
Higley Rd
Higley Rd
40
Williams Field Rd
Williams Field Rd
41
Santan Village Pkwy
42
Val Vista Dr
Val Vista Dr
44
Gilbert Rd
Chandler Gilbert
Community College
Pecos Campus
Gilbert Rd
Chandler Gilbert
Community College
Pecos Campus
45
Cooper Rd
Chandler Municipal Airport
Cooper Rd
Chandler Municipal Airport
46
McQueen Rd
McQueen Rd
47

Arizona Ave
Downtown Chandler

Arizona Ave
Downtown Chandler
48
Alma School Rd
Alma School Rd
49
Dobson Rd
50A
NORTH
50B
Price Rd
Price Rd
50A
NORTH
51
McClintock Dr
Chandler Village Dr
52
Kyrene Rd
Kyrene Rd
53

EAST
Tucson
WEST
Phoenix

SPEED LIMIT 65
Pecos Rd
EXIT
WESTBOUND EXITS


Read down

EASTBOUND EXITS


Read up

Santan Freeway
Return to Arizona State Routes
Return to Arizona Roads
Last updated 7/4/2007