Wrong Way!!
A lot of unusual, funny, or just plain wrong signs and roads.
10/19/2003-present
6/11/2001-10/18/2003
6/11/2000-6/10/2001
11/01/1999-6/10/2000
04/18/1999-10/31/1999br /> 10/15/1998-04/17/1999
7/20/1998-10/14/1998
6/9/1998-7/19/1998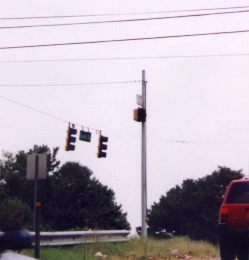 Atlanta must have some really, really tall pedestrians. (I-285 in Dunwoody, GA)
---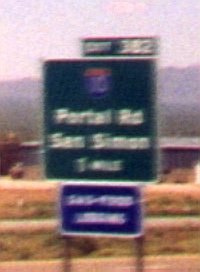 Sorry about the poor quality -- I took this picture from an Amtrak train! Anyway, don't get off here if you want to stay on I-10. That's supposed to be a Business Loop I-10 marker. (I-10 at San Simon)
---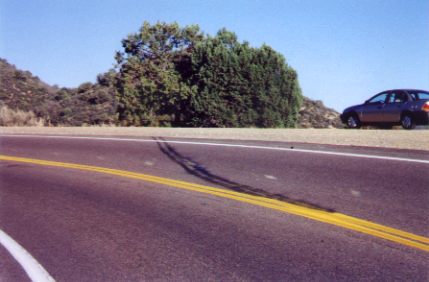 Anyone see a coyote chasing a roadrunner through here? It looks like the paint truck pulled off the road, but forgot to turn off the paint. They tried to cover it with black paint, but it didn't work very well. I think it will wear off, as well. ADOT needs to sandblast off the old paint. There is a nasty dropoff past the shoulder here. (AZ 89 north of Wilhoit)
---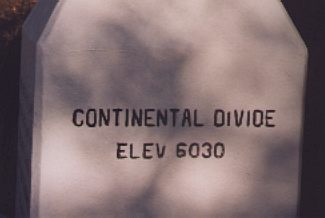 This monument is in Mule Pass. It's also in the wrong. The actual Continental Divide is between Lordsburg and Deming, NM. (over Mule Pass tunnel on AZ 80 near Bisbee)
---

New Mexico kept its section of US 666 from Gallup to Colorado, and they don't seem to believe Arizona has decertified its. (I-10 near Arizona border)
---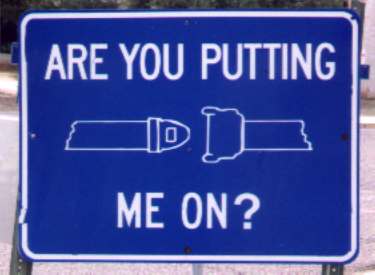 For many years, this was the slogan for Arizona's seat belt campaign. (Maricopa County Medical Center, Phoenix)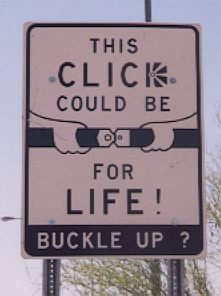 This was a later message, and can still be seen at the exits to some Rest Areas.

The current message isn't as memorable.
---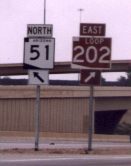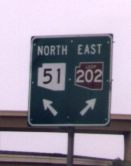 Signs that lie are the worst. Like this one. Traffic exiting I-10 first exits onto a shared ramp, which then splits into ramps for AZ 51 and AZ 202. The AZ 51 sign on the left actually directs traffic back on to I-10. The second, green sign is at the actual split. (Phoenix) Update: as of 5/11/1999, it's been fixed.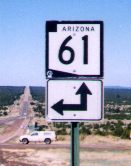 Here's another wrong way arrow. AZ 61 ends here, it's US 60 that follows the arrows. (near Show Low)
---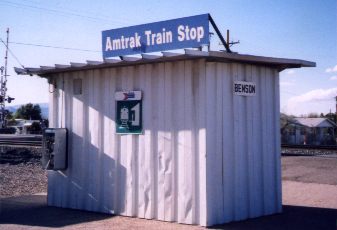 A great part of the romance of the rails is those old, grand train stations. (Benson)
---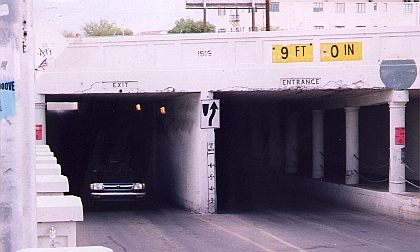 Watch your head! Although most low railroad crossings have been replaced or bypassed, this 1919 one on 4th Ave. in Tucson is still in use.
---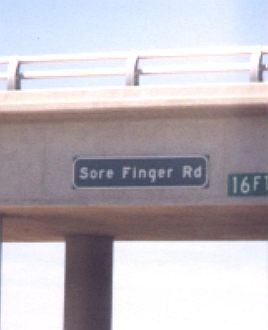 Ouch! (I-10 near Vicksburg Jct)
---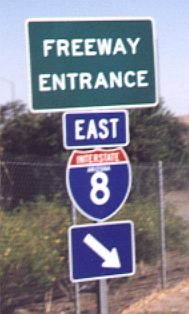 Caltrans marks all its freeway entrances with signs like these. It looks like they snuck across the border into Yuma to install these, as these are in Arizona.
10/19/2003-present
6/11/2001-10/18/2003
6/11/2000-6/10/2001
11/01/1999-6/10/2000
04/18/1999-10/31/1999
10/15/1998-04/17/1999
7/20/1998-10/14/1998
6/9/1998-7/19/1998
Last updated 08/11/1999