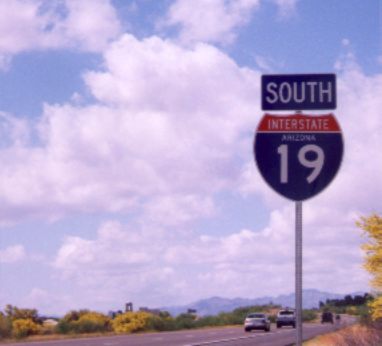 Current route in Arizona: Mexican border at Nogales to JCT I-10 at Tucson
Length: 101 km
Junctions: AZ 189, AZ 289, AZ 86, I-10
---
I-19 is one of the two Interstates in Arizona that don't go between US states. It does, however, go between countries. I-19 connects the major border crossing at Nogales with I-10.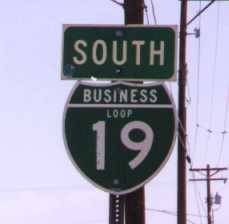 I-19 replaced the southmost section of US 89. After US 89 was decertified in 1992, the remaining stand-alone portions became Business Loop I-19. The northern leg, from Tucson to Green Valley, lost its Business Loop designation in 2003. The section in Nogales is still active.
---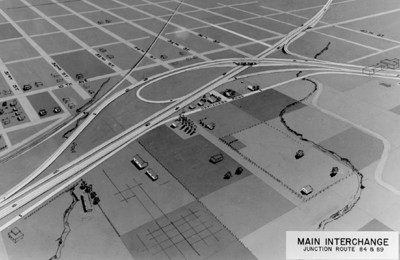 This 1957 design (Illustration: ADOT) of the I-10/I-19 interchange was constructed in 1963. In 2002, ADOT reconstructed it it to eliminate the loop ramp and increase capacity.
Note that this diagram calls them by their pre-Interstate numbers, AZ 84 and US 89.
---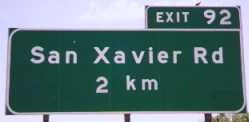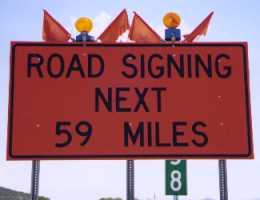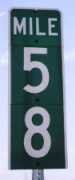 Well, almost. In addition to the metric signage, there are mileposts and MPH speed limit signs. (The latter don't specify the units.) The mixed kilometer/mileposts are going to be confusing.
ADOT kept the metric signs during the resigning project. (By the way, how does Mexico feel about ADOT resigning one mile of their highway?)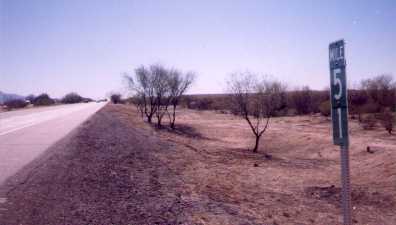 Ronald J. Wysocki informs me as of early August 1998, the milepost signs have been turned 90° to the highway, so that they are not readily visible.
As of 2007, the future of the metric signage is uncertain. ADOT may changed them to imperial measurements when the signs are next replaced.
---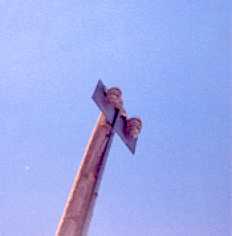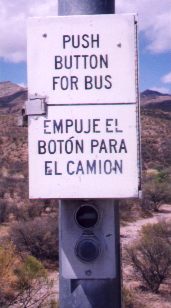 Most of the southern exits on I-19 have a pole with a pair of lights like these, either on a wooden telephone pole or a light pole. These are industrial white globe lights, not standard traffic signal lights. The button is located on a pole by the intersecting street. I don't know what bus service uses them.
---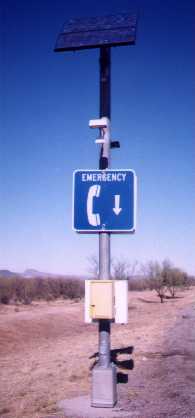 Unlike California, only a few miles of highways have call boxes on them. I-19 has most (all?) of them. AZ 51 in metro Phoenix had them at one time, but they were removed.
---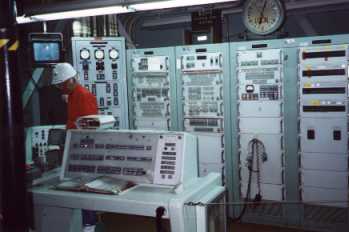 "Turn your key, sir!" The Titan Missile Silo, at exit 69.
---
Click the name of an attraction to visit it
Exit numbers are based on kilometerposts
I-19 EXIT LIST
EXIT
NORTHBOUND EXITS


Read down

SOUTHBOUND EXITS


Read up

0
SPEED LIMIT 45
SPEED LIMIT 25
0
Downtown
International Border
FREEWAY ENDS
1A
International St
1
SPEED LIMIT 55
SPEED LIMIT 45
1B
Western Ave
Western Ave
2
SPEED LIMIT 65
SPEED LIMIT 55
3
SPEED LIMIT 75
SPEED LIMIT 65
4
SOUTH
Mariposa Rd
SOUTH
Mariposa Rd
BORDER TRUCK ROUTE
8

Grand Ave
TO EAST
Patagonia
LEFT EXIT
12

Ruby Rd
Nogales Ranger Station

Ruby Rd
Nogales Ranger Station
Pena Blanca Lake
Recreation Area
Pena Blanca Lake
Recreation Area
17
Rio Rico Dr
Yavapi Dr
Rio Rico Dr
Yavapi Dr
22
Peck Canyon Rd
Peck Canyon Rd
BORDER PATROL CHECKPOINT
25
Palo Parado Rd

Palo Parado Rd

29
Tumacacori
Carmen
Tumacacori
Carmen
Tumacacori National
Historical Park
Tumacacori National
Historical Park
34
Tubac
Tubac
Tubac Presidio State
Historic Park
Tubac Presidio State
Historic Park
40
Chavez Siding Rd
Tubac
Chavez Siding Rd
Tubac
42
Agua Linda Rd
Agua Linda Rd
48
Arivaca Rd
Arivaca Rd
53
Rest Area
Rest Area
56
Canoa Rd
Canoa Rd
63
Continental Rd
Continental Rd
Madera Canyon
Recreation Area
Madera Canyon
Recreation Area
65
Esparanza Blvd
Esparanza Blvd
69
Duval Mine Rd

Duval Mine Rd

Titan Missile Natl
Historical Landmark
Titan Missile Natl
Historical Landmark
75
Sahuarita Rd
Sahuarita
Sahuarita Rd
Sahuarita
80
Pima Mine Rd
Pima Mine Rd
87
Papago Rd
Papago Rd
87
SPEED LIMIT 65
SPEED LIMIT 75
92
San Xavier Rd
San Xavier Rd
San Xavier Mission
San Xavier Mission
92
SPEED LIMIT 55
SPEED LIMIT 65
95
Pascula Yaqui Pueblo
Valencia Rd
Tucson Airport
Pascua Yaqui Pueblo
Valencia Rd
Tucson Airport
98
Irvington Rd
Irvington Rd
99

Ajo Way

Ajo Way
Desert Museum
Old Tucson
Desert Museum
Old Tucson
101
EAST
El Paso
102
27th St - 29th St
Star Pass Blvd
Silverlake Rd
WEST
Phoenix
101
SPEED LIMIT 55
SPEED LIMIT 55
EXIT
NORTHBOUND EXITS


Read down

SOUTHBOUND EXITS


Read up
Return to Interstate Routes
Return to Arizona Roads
Last updated 11/17/2007