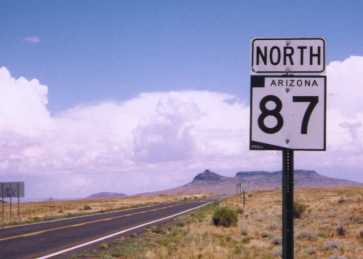 Current route: JCT I-10 (almost) at Eloy to JCT AZ 264 at Second Mesa
Historic route: Eloy to Payson
---
AZ 87 is being expanded to four lanes from Mesa to Payson, along the segment known as the Beeline Highway. It mainly serves campers heading to the Mollogon Rim country and White Mountains from Phoenix.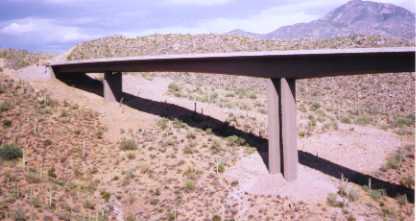 This is a giant new bridge for the southbound lanes south of Sunflower. This picture was taken from the existing highway, which will become northbound only. The SB lanes will cross over the NB lanes, avoiding a large loop through a side canyon.
AZ 87 took over AZ 65 north of Payson, and AZ 166 north of Winslow.
The southern end of AZ 87 is at what used to be AZ 84, which went about half a mile further to connect to I-10. AZ 84 is gone now, but the end of AZ 87 hasn't moved, so there's a 1/2 mile gap.
Return to Arizona State Routes
Return to Arizona Roads
Last updated 8/16/1998