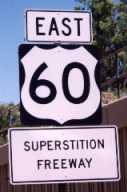 The Superstition Freeway was the only freeway undergoing construction after plans for the rest of the highway system were suspended in the early 1970s.
The name comes from the Superstition Mountains at the east end of the valley.
The first bit opened from I-10 to Mill Ave. as AZ 360 in 1970. It was gradually extended east to Power Rd., which it reached in 1985. At that time, traffic had grown so much that the original two lane design was inadequate. A third lane and divider wall was added in the median from I-10 to Power Rd.
Extending the freeway east continued in 1989. Unlike the previous segments, the remaining road was not open until the entire 11 miles was completed. This was opened by 1991. Power Rd. to Signal Butte Rd. was constructed as three lanes, and the remainder was constructed as two lanes with a median for future expansion.
As one concession to changing times, the original construction was elaborately landscaped, unlike the bare rock and concrete of the Black Canyon and Maricopa freeways. It had a wide grass verge on either side and sound walls.
Due to the high cost of upkeep and high water usage, the grass was replaced by gravel in the early 1990s. In 1992, the through-town routing of US 60 was moved to the Superstition Freeway and the AZ 360 number was dropped.
In 1997, the underpowered trumpet interchange with I-10 was replaced with a semi-directional T.
Starting in 2001, ADOT began a substantial upgrade of the Superstition, from I-10 to Val Vista Rd. The project includes auxilliarly lanes between all entrance and exit ramps, car pool lanes with a direct connection to/from I-10 going into Phoenix, and additional mainline lanes east of the AZ 101 interchange. The project has a website at http://www.superstitionfreeway.com.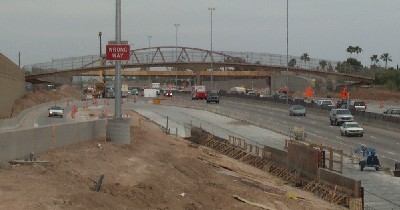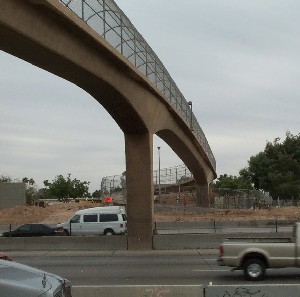 The attractive 1972 arched College Ave. pedestrian bridge was demolished in May 2002 as part of the project. Although they probably thought they were pretty progressive in 1972 for using ramps instead of stairs, they were far too steep for wheelchairs.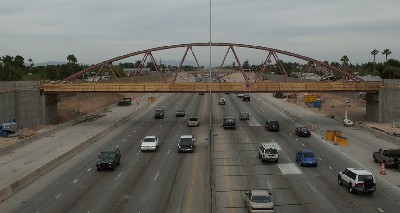 The new bridge is a steel truss bridge with a flat deck. It was assembled on the shoulder, and lifted into place with a crane. There is no center column support. The location is slightly east of the old bridge. The ramps parallel the freeway and have a gentle pitch and flat rest points to comply with the Americans with Disiablities Act.
Return to Urban Freeways
Return to Arizona Roads
Last updated 6/9/2002