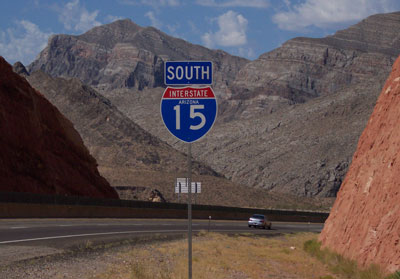 Current route in Arizona: St. George, UT; Littlefield, AZ; Mesquite, NV
Since: 1969
Length: 29 mi
Current route nationally: San Diego, CA to Canadian border at Sweetgrass, MT
Junctions: None!
---
The "forgotten" Arizona Interstate. Hardly anyone will list this one when asked what Interstates run through Arizona. It crosses a very remote area of the Arizona Strip, northwest of the Grand Canyon. I-15 is not reachable by paved road from the rest of the state. I-15 replaced US 91 as the route from Las Vegas to St. George, but took a different alignment. Instead of curving north at Littlefield, I-15 climbs through the Virgin River Gorge, winding along the canyon over the river. Some of the bridges straddling the river are over 800 feet long, and nearly touch the canyon walls on either side of the highway. It's a spectacular sight, but you have to enjoy it at 55mph, as no stopping is permitted.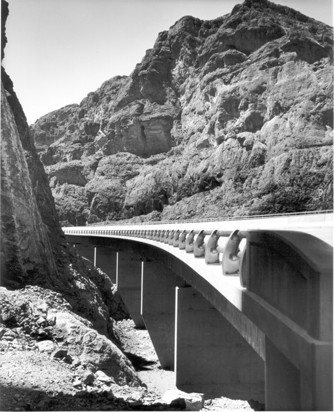 A 1972 picture showing one of the bridges shortly after it was constructed. (Photo: ADOT)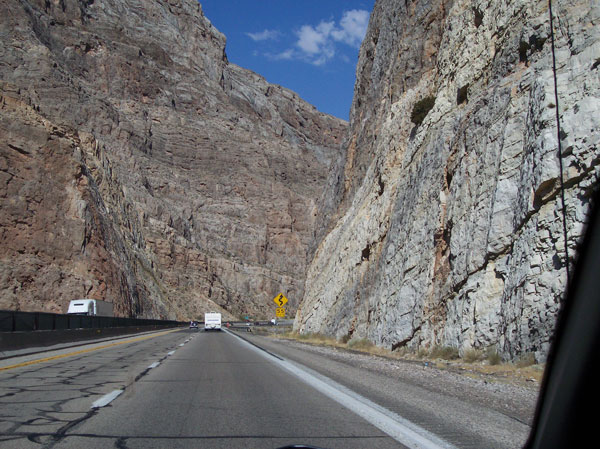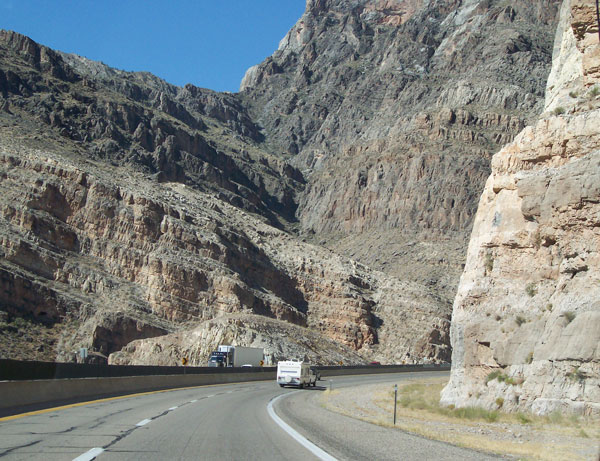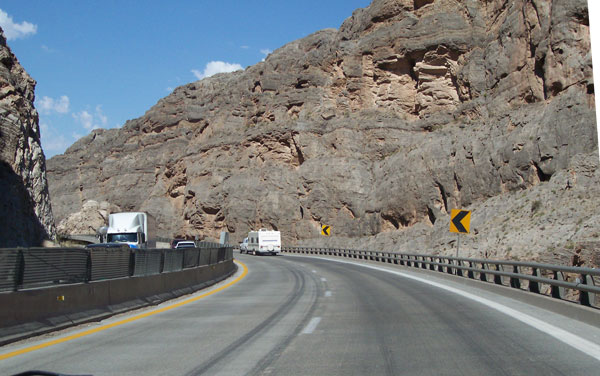 Present-day (2004) view of the canyon.
Click an attraction name to visit it
I-15 EXIT LIST
EXIT
NORTHBOUND EXITS


Read down

SOUTHBOUND EXITS


Read up

0
Nevada State Line
0
SPEED LIMIT 75
SPEED LIMIT 75
8
Littlefield
Beaver Dam
Littlefield
Beaver Dam
9
Farm Rd
Farm Rd
11
SPEED LIMIT 65
12
SPEED LIMIT 55
SPEED LIMIT 75
18
Cedar Pocket
Cedar Pocket
Virgin River Canyon
Recreation Area
Virgin River Canyon
Recreation Area
23
SPEED LIMIT 75
SPEED LIMIT 55
CURVES
MOUNTAIN GRADES
NEXT 11 MILES
24
SPEED LIMIT 65
27
Black Rock Rd
Black Rock Rd
29
SPEED LIMIT 75
SPEED LIMIT 75
29
Utah State Line
Special thanks to Daniel Stober for the original exit list
Return to Interstate Routes
Return to Arizona Roads
Last updated 7/24/2004