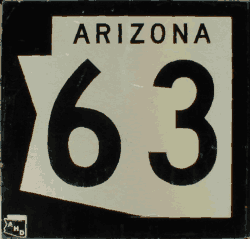 Current route: Defunct
Historical route I: From US 260 to US 66, through Petrified Forest
Existed: 1932 - 1933
Historical route II: From US 66 at Sanders to AZ 164
Existed: 1961 - 1982?
---
The road through the Petrified Forest National Park is now maintained by the Park Service.
The second routing became US 191.
Photo courtesy of John Northup.
Return to Arizona State Routes
Return to Arizona Roads
Last updated 12/25/2000